It's time for the networks to give women's sport a fair go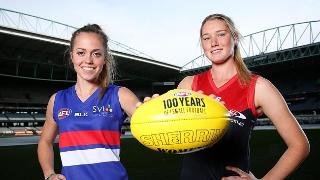 When was the last time you heard someone ask, "What channel is the footy on?"
Well, if your footy is a Sherrin then the last time you heard this question asked was about 1956 and if you own a Steeden then this was a talking point in the '60s — then again in the '70s and '80s.
Safe to say, you wouldn't find people adding in "men's footy".
If the October long weekend was the ultimate 48 hours of Footy — take a bow Cowboys, Hawthorn, Wallabies and standing ovation for Johnathan Thurston — then the entire month of August was Australian women's sport "day" in the sun.
In August, the Diamonds won the Netball World Cup; the Commonwealth Bank Southern Stars won the Ashes test against England and the Jayco Opals qualified for the Rio Olympics.
Australia's national women's netball, cricket and basketball all turning out world-beating performances — yet no one would have known automatically where to watch the games, if they were broadcast at all. You only have to look at the massive female participation base and evidence that there are loyal fans — a new, untapped TV audience — waiting for Australian corporates and broadcast media to catch up.
The Diamonds' win was the number one rating sports program that Sunday for Ten and Fox Sports, yet they don't have a naming rights sponsor. If ever you wanted further evidence of the enormous popularity of netball, you only have to look to the NSW Swifts. They have sold out of match day memberships six months before the commencement of the 2016 season.
On August 16, Seven broadcast its first-ever live game of Women's AFL (Western Bulldogs v. Melbourne). The game's ratings peaked nationally at 501,000, with an average of 301,000.
The Commonwealth Bank Southern Stars Ashes triumph wasn't broadcast anywhere in Australia. Tough for their major sponsor the Commonwealth Bank to gain recognition for their support, but Comm Bank made it work on social media.
Is the popularity of the TV Networks so impenetrable that they are prepared to relinquish these fans and their commercial partners to online?
Back in May, current World-Cup holders, the Harvey Norman Australian Rugby League Jillaroos beat the Kiwi Ferns 22-14. The game was broadcast on delay on the primary channel Nine in Sydney and Darwin.
The Jayco Australian Opals may be bound for Rio but the WNBL has been left without a broadcaster in 2016.
One of the cop-outs you hear from both Australian corporates and broadcasters is that you need sponsors to make a broadcast commercially viable, but the sponsors need the broadcast to justify the cost. The chicken and egg argument in Australian Women's Sport continues to hold our athletes back and let the fans down.
Of the estimated $780 million invested in Australian sports sponsorship, only 8 per cent is allocated to Australian women's sport.
What doesn't make sense is why more corporates can't see the immense opportunity. More than 410,000 girls and women play in a netball team each year — that is 410,000 Australian homes that are directly influenced by netball. From a game attendance perspective, Australian women love live sport (ABS) — 1.2 million women attended at least one AFL game annually; 600,000 watched a game of rugby league and 500,000 took in the action of a day at the motor-racing. Of the 1.9 Million Australians who watched a horse race trackside, close to half were women. These numbers are commercially viable in anyone's book.
When I think of companies that have done sport sponsorship so well for so long, especially women's sport, I think of Blackmores. They are indelibly linked to Kay Cottee's around the world yachting triumph. Women's sports sponsorship is really working when you get that sort of automatic brand recall.
There are positive signs however, with all the current commentary that things are starting to change.
Gill McLachlan announced plans earlier this year for a national Women's AFL competition in 2017. No doubt Seven and the AFL are factoring this into their broadcast plans for their first year of their new $2.5 billion broadcast rights deal.
Ten is making in-roads, together with Harvey Norman, the 14 ANZ Championship round matches will be broadcast live (AEST) in 2016 on the primary channel — Ten. It makes great commercial sense for us to work together from the outset. Everyone wins.
Finally, we recognise at Harvey Norman we can do more to highlight, promote and assist Australian women in sport. We should all try a bit harder to change the current status.
Katie Page, Harvey Norman CEO, is a supporter of women's sport.