Gerry Harvey, Katie Page prove Harvey Norman critics wrong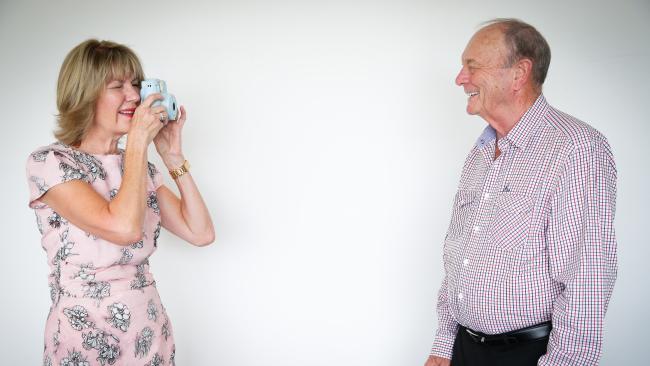 Katie Page and Gerry Harvey are in the pink after announcing a half-year net profit of $186 million. Picture: Renee Nowytarger
Written by: Glenda Korporaal, theaustralian.com.au
Source: View Original Article
After years of criticism of aspects of their retail strategy, Gerry Harvey and Katie Page are enjoying proving their detractors wrong.
In reporting a 31 per cent jump in net profits to $186 million, for the six months to the end of ­December, the Harvey Norman chairman and chief executive were allowing themselves some satisfaction yesterday at their Sydney ­headquarters.
"We have been seeing growth come back into play," Mr Harvey told The Weekend Australian­. "We have come out with the kind of results and growth that we used to do years ago. It's like a door has been opened — there is a growth factor that hasn't been there in the last few years.
"We have had these voices out there somewhere attacking us. We had to listen to those people and their criticism.
"There was the guy who ­declared that Harvey Norman was the world's best stock to short. From the day he made the announcement, the share price hasn't stopped going up."
Having been roundly criticised for having missed the online shopping market some years ago, Mr Harvey argued that Harvey Norman now has one of the lar­gest online shopping operations of any retailer in its category.
"We are now the big online player," he said.
"The online players who criticised us are not making money 98 per cent of the time and many of them are on the path to oblivion. Two or three years ago, ­people wouldn't listen to us. But now you have to listen because we have backed up our arguments with sales and profits. We are out there on the cutting edge of retailing."
Mr Harvey argued that Harvey Norman was one of the best-performing retailers in the world, its growth exceeding the Australian economy and retail sales growth.
Ms Page said the market ­under­estimated the fact that Harvey Norman was an experienced retailer constantly evolving its business model.
"People were out there saying, 'This is what Harvey Norman looks like. They are not going to evolve their business model.' But we evolve every month. That's the business we are in.
"Our critics were talking as if pure online was a business model which did not take in the physical store or the distribution points. But it is our model that is actually the strong one."
A combination of a strong NSW economy, lower petrol ­prices, a strong housing market, ­continued growth in the Australian economy, the popularity of technologically driven products and an improvement in its international operations helped to produce a strong performance for the retailer and property ­company.
Profit before tax and impairment losses rose 36 per cent to $279m over the half. Headline global sales rose by 8 per cent to $3.33 billion with Australian franchise sales up by 7.7 per cent to $2.72bn over the half, or 8.8 per cent on a like-for-like basis.
"We have a strategy," Ms Page said. "We know this business. Many people have come into our business thinking this is easy. But you really have to know your stuff in the categories we are in. We are home makers, lifestyle and technologists. We are positioned better than many other companies."
Ms Page, who has overseen the group's international expansion, was particularly pleased that the latest results have shown a strong performance across the eight countries where Harvey Norman operates.
The retailer was criticised for the losses of its Irish operations when the country's economy was hit hard by the global financial crisis.
But like-for-like sales from its Irish business grew by 18.2 per cent in the six months to the end of December on the back of a ­recovery in the economy. This compares with 8.8 per cent in Australia, 5.4 per cent in New Zealand and 4.4 per cent in Slovenia and Croatia.
"We have a very experienced team around the world," Ms Page said. "We are not just sitting in Australia. We have footprints in eight countries and if there are new trends or new products which are working, the information goes to all our countries."
Ms Page said the recovery in the NSW economy was reflected in Harvey Norman's sales over the past few years.
"NSW is 35 per cent of the Australian economy. The state was in the doldrums for a decade. We had a change of government a few years ago with a government that is moving to get infrastructure happening," she said.
"NSW has been a strong base for the rest of Australia."
Ms Page said the collapse of electronics retailer Dick Smith had more to do with that retailer's own issues than the state of the Australian economy.
"It has nothing to do with the real economy and how people are going out there," she said. "We never really had them in our sights for a long time. They had small store formats, with a lot of white label and accessories."
Mr Harvey described Dick Smith as a "failed concept which ran out of steam six or seven years ago. It rebirthed but then it failed again."
But he said Harvey Norman would be in a good position to pick up business from the Dick Smith collapse.
He said Harvey Norman's ­results and the recent upturn in sectors such as tourism and agriculture, in the face of a sharp fall in the mining industry, showed the resilience of the Australian economy.
"When you look at the whole of the Australian economy and compare it with the rest of the world, you see low interest rates, strong housing values and assets improving because of housing prices and low unemployment — all these factors lead to a vibrant, strong economy," he said.
"We tend to whinge, but at the end of the day even the whingers have to say, 'It's not that bad'."
Mr Harvey said Harvey Norman had been showing strong growth for the past three years and he expected this to continue.
"We have done well and, looking ahead, we will do even better," he said.
"I see us gaining market share and increasing profits and sales at a greater rate than any of our competitors."